---
February 24th, 2014 at 8:20 pm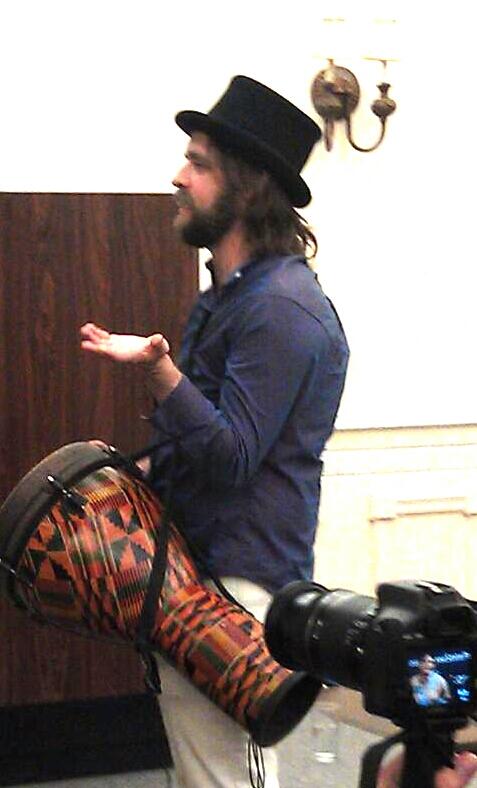 With Liberty Forum 2014 behind us, I'm left with a large list of moments to which to reflect – nearly every moment was in some way remarkable.
First, though, I want to thank everybody who came to the open technology track, which I hosted on behalf of slashRoot. It was a wonderful time. We had three powerful, informative, and influential speakers in Chris Case, Daniel Krawisz, and Cody Wilson.
At the conclusion of the long day of talks, I hosted a short panel with all three of these speakers. After conferring with the three panelists, I decided to play an instrument (in this case a djembe drum) while guiding the talk – something which I have done in other moderation contexts throughout my career.
Immediately following the talk, I was swarmed by people remarking about how different and exciting the engagement was. I was relieved and overcome with joy, as I had some uncertainty (as I'm sure you can imagine) about how the Liberty Forum audience might react to what is, after all, a fairly unorthodox tactic for a conference.
However, after this, I noticed that the opinions on the twitters and youtubes were a little more divided. Some were raving and looking forward to the video, while others expressed appreciation for the previously unexplored topics of conversation. There were 3 or 4, however, who took issue with my choice of tactics.
I very much want to engage with folks on this matter because I think there's room to create very compelling content of this nature at events like Liberty Forum and I want it to be accessible and formative for everyone, not just the naked-fire-dancing-drumming-treehugging among us.
I think that I understand the concerns – basically that the musical approach was more distracting than it was worth (or perhaps that it added nothing at all). Also, that my interjections diminished access to the three panelists, instead putting a focus on me. If this is an unfair or incomplete characterization, please feel free to respond here or on twitter with clarifications.
Please understand – we at slashRoot worked very hard to make this panel a success. We studied each of these three speakers and their histories (including their previous interactions with one another) in order to try to find ways of showing the differences in their approaches and thinking. This was not something that I took lightly or that I embarked upon on my own.
These panelists appeared throughout Liberty Forum 2014 in a number of different contexts which were moderated with different approaches.
I moderated the entire open technology track (the whole day, not just the panel). Each of the three speakers engaged in an individual talk on a topic of their choice. During this individual talk, I gave each speaker wide latitude to engage with the audience in a traditional approach. I also gave the audience ample time to interact with each speaker at the end of each talk.
The panel, which closed the track, was designed to appeal to people who had already sat through a whole day of otherwise rather dry (but nonetheless compelling) material from these three awesome minds.
The theme of the panel, "leading by example," was to identify elements of liberty culture within the world of technology development. In order to do that, we tried to really drill into the thinking that underlay each panelist's activism and how it translated to liberty tactics being used to underwrite their successes.
Naturally, I engaged forcefully with the panelists in order to achieve this difficult end. I was not asked (and never intended) to play a role as passive host, but rather to moderate and lead a complex, difficult, expert-level discussion.
To this end, I decided to add a rhythmic component in an effort to evoke a talking-piece dynamic. I labored over this decision and talked about it with Cody in the hours before the panel. I also asked the other two panelists their opinion, and both were in favor.
I have seen some comments to the effect that the drumming was "over" the speakers or likening it to bringing a radio to a movie. I just watched a short video of a portion of the panel on YouTube and I have to say: I think that the drum added precisely the effect we hoped it was going to.
During the vocalizations of each panelist, the punctuation of their speech matches the measure of the drum. They and I play off each other in exactly the way I wanted. Mr. Wilson in particular seems to have a pleasing rhythmic timbre to his approach and I think it listens quite well.
Even the friendly heckler heard in the video (François-René Rideau, an accomplished developer in his own right) sounds on beat. (François later tweeted a flattering endorsement – thanks man :-)).
I am aware that the drum was comparatively louder for the audience than the hand-held microphone. For this imbalance, I absolutely apologize. In the future, I will either secure a monitor or work to more properly sound-check the environment. For us up on the stage, the mix sounded great, which I realize comes as little consolation. It is my hope the mix we heard is the one that will be audible on the video production of the event.
In any case, I don't think there's any dispute that the vast majority of the audience responded positively to our approach. The room started at about 50% full. People who peeked their head in and heard the sounds we were making came in and sat down, almost without exception. By the end, nearly every seat was full other than the front row. The walls were also lined with curious onlookers. At our conclusion, the audience reacted with uproarious esteem.
In short, if you didn't like my moderation, I hope that you took the time to engage with these panelists in their other appearances. I think that my approach was very successful and am proud of it. I intend to continue to try a variety of methods of mould-breaking in future moderation tasks, which I anticipate being given after the success of this panel.
If anybody has any more specific critiques to make, by all means know that they will be received and considered. Thanks again for attending and see you at Porcupine Fest!