Let's review the recent history of the "feud" between Jamie Varner, former WEC lightweight champion, and Donald Cerrone.
In January of 2009, these two talented fighters met in the cage for the first time, with top contender Cerrone looking to dethrone Varner at a time when, by all accounts, the division was running rather thin.  Apart from these two and future (and now current) champion Benson Henderson, no real competition existed in the WEC lightweight division.
Their 5 round battle was historic – widely and rightly regarded as one of the best fights in the division's history.
Jamie Varner, while not completely dominating the fight, unambiguously won the first 3 rounds.  He exercised far better control of the cage, landed a higher percentage of his strikes, and was the unquestionably superior wrestler.  The 4th round was much closer, but many commentators still had it going narrowly to Varner 10-9.
Yet, the 4th round signaled a clear turn for the fight, and as we'd later learn, for the WEC lightweight division.  Jamie Varner was loosing his control and energy, and Cerrone was gaining on him.  Cerrone was becoming the best fighter he had yet been – it was truly a pleasure to watch.
At the beginning of the fifth round, Varner signaled to Cerrone that he wanted a hug.  The two fighters, bruised and bloody, raced to the center of the cage where they took the first ten seconds to celebrate each other.  They had a long embrace, and Jamie Varner gave the clear impression that he wanted to bring out the very best in Cerrone for the final round.  They smiled, the audience went ballistic, and Cerrone let out a loud whoop.  It was one of the best moments in the history of American Mixed Martial Arts.  The message was clear:  These two fighters respected and – dare I say – loved each other and their sport so much that they could take 10 seconds to stop brutalizing each other and express themselves emotionally.
After these 10 seconds, the fight immediately took on the most serious and aggressive tone yet.  Both men landed several devastating blows and showed off their very best skills.  Varner was fading, and he knew it.  He was ready – even proud, to hand the title away.  All eyes watched as he fell to his knees, seconds away from fading into TKO.
And then, something terrible happened.
Donald Cerrone, a professional fighter and trained martial artist, through a heavy, full-speed knee directly at Jamie Varner's head as he sat on his knees.  Watch: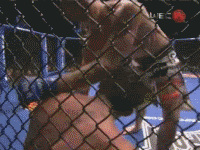 Apart from obviously being completely prohibited by the unified MMA rules, this manuever was reckless, unsportsmanlike, and potentially deadly for his opponent who had just shown him the very best affection a man can after being beat half senseless.
The knee glanced Varner's head and right temple.  The referee immediately intervened.  Everyone gasped.  A collective, "what. the. fuck. did he just do?" escaped the lips of the MMA fan community.
All attention focused on Varner's well-being for that moment.  The replay showed that the knee had only glanced, so a sigh of relief was in order.
Yet, when Varner was asked, on the spot, if he was OK, he responded, "I can't see straight."
Now, think about this for a moment.  Is this anything other than a candid, honest answer?  No, it is not.  Surely he truly was unable to see straight, whether due to Cerrone's knee or otherwise.  Did Varner expect these words to end the fight?  Probably not.  Did he expect these words to change the course of the WEC lightweight division, and perhaps all of MMA?  Definitely not.
Yet, hearing this, the referee ended the fight, sending the decision to the judge's scorecards.  Strangely, the fight was ended due to "incidental" contact on the part of Cerrone.  This is preposterous.  Cerrone intentionally through the knee, and intentionally aimed at Varner's head.  No other conclusion is reasonable.  Was it done with outright malice?  No, probably not.  Cerrone was probably just really amped up and lost control for a second.  Nevertheless, nothing about the technique was "incidental."  It was a textbook example of a prohibited knee to the head – it simply failed to hit its intended illegal target straight on.
Amid the confusion, the judges announced the obvious: Based on the scores, Varner had won the fight.
At this time, some members of the audience began to boo.  This caused Jamie Varner, who isn't much of a public speaker to begin with, to loose his cool and approach tears.
At this point, I expected, or at least hoped, for Donald Cerrone to do the only responsible thing.  He had a moral imperative to take the microphone from Varner and say, "Hey, listen up.  This is not Jamie's fault.  I threw an illegal knee in the heat of the moment, and the fight got called.  It was a mistake, and one that I will work to make sure I never make again.  With Jamie's blessing, we'll get a rematch ASAP."
This simple response would have elicited an uproarious approval from the crowd and averted a feud that has plagued the sport ever since that night.
Not only did Cerrone not make such a remark, but he clearly did not make any effort to change his conduct.
Two fights later, Cerrone, facing Ed Ratcliff, Cerrone threw another illegal knee – to Ratcliff's groin.  And then another illegal knee – to Ratcliff's groin.  And then ANOTHER illegal knee – to Ratcliff's groin.  Although 2 points down and sure to loose on the scorecards, Cerrone secured a rear naked choke and submitted the newly sterile Ratcliff.
Another fight with Varner was scheduled for 20 months after the initial one.  Cerrone, determined, as Varner accurately put it, to "set the sport back 10 years," referred to Varner as a "fag" and expressed hope that Varner would become "the first death in American MMA."
How, after all this misconduct and bigotry, this man is still allowed to fight, is a question you'll have to ask the WEC.
The rematch, unlike their earlier fight, was slow and frankly boring as hell.  Neither fighter looked like a professional-level athlete.  Varner was just plain nervous (understandable for a man who'd been issued a straight-up death threat vis a vis the fight in question) and Cerrone looked decidedly mediocre.
Cerrone out-wrestled, out-boxed and out-fought Varner in every round by just enough to get the score.  Like all three judges and probably every other viewer, I had the fight at 30-27 at its conclusion.
Cerrone managed to refrain from throwing any illegal knees and actually showed a modicum of control and cognition of the rules of the sport in which he was participating.  At the dojo at which I train, this would probably qualify Cerrone to graduate to from White Belt to Yellow.  So congratulations, Donald, you can now be regarded as something other than a completely out-of-control bigot with an "I don't care about no rules" attitude.  Now you are just a bigot.
Nothing about Thursday's fight suggested to me that Cerrone was a better fighter than Varner, only that he was having a better night.  Like every other fan with a pulse, I am looking forward to part III of this saga.  I hope that by then both fighters have returned to the attitudes that characterized their first match.
Update: Cerrone also wasted no time in kicking Chris Horodecki in the cup in round one of his very next fight after this one.